Marriage proposals with Ice Sculptures!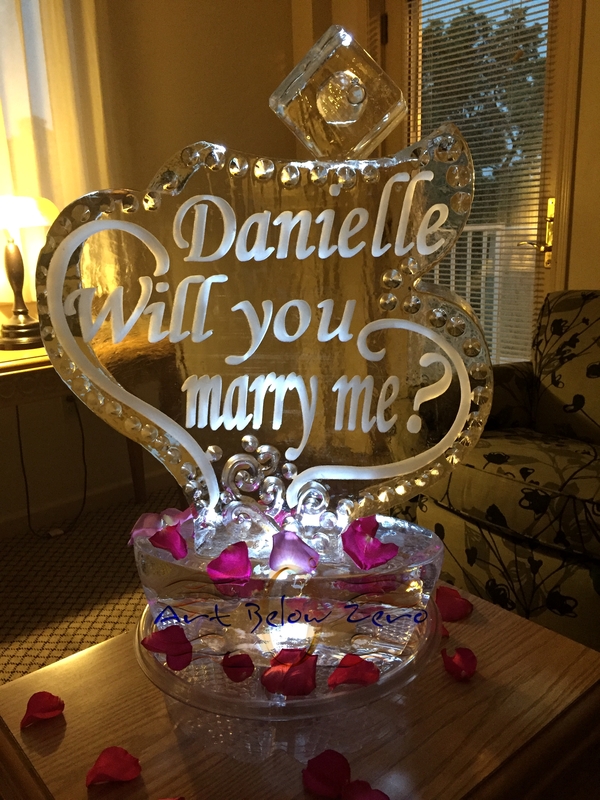 The magic of ice sculptures truly comes alive through the creativity that you bring to us! We are so thrilled to be considered in so many important sentimental events in one's lifetime. Ice sculptures are widely known for their appearances at weddings but we have the honor of working with some really creative people who have utilized ice sculptures way before any vows have been said. On New Year's Eve 2013, we set up our graffiti wall ice sculpture that allows the guests to draw or write onto a wall of ice with special portable dremmels we bring along. One man started writing his marriage proposal to his girlfriend and we whipped out our phones and were able to get it on camera! Talk about "WOW" factor!
See the video here: https://www.youtube.com/watch?v=mUWtneFA3pw
Recently, we have had the pleasure of working with Jeff who came to us with an idea to create a personalized marriage proposal in an ice sculpture for his girlfriend (pictured above). We wanted to curate this experience to be extraordinary, so we froze the ring in the ice displaying it on the cube that you see on top of the ice sculpture. Don't fret, we left Jeff with an ice pick so she could put the ring on as soon as possible! Alough we left before we could see her reaction, the new groom-to-be let us know that she was completly overwhelmed with joy and had said yes!
The most remarkable thing about ice sculptures is that they create a 'memory footprint' which we define as the extremely vivid and lifelong impression that is left in your mind. As the couples share the tale of their proposals throughout years to come, the story itself becomes magical with the essential turning point being the interaction with our ice sculptures. With the desire to be the most creative and original in proposing the ultimate question to your significant other, we can guarantee that our ice sculptures are hands down, the most personable, customizable, and breath-taking way to propose to your loved one!